By Alison F. Takemura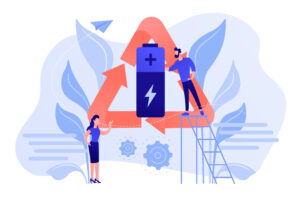 It's easy to recycle a glass bottle or a piece of aluminum foil. They're made of single materials. But a solar panel or battery is much more difficult; they're made of numerous substances mashed tightly together in different ways. So it's a real technical challenge to extract components and refine constituent materials at high enough purity that they can be reused. To get a feel for just how hard recycling them can be, let's take a closer look at the main materials and configurations commonly used in a lithium-ion battery, a solar panel and a wind turbine.
Inside electric vehicles and battery storage connected to a home solar array, a lithium-ion battery resides, often contained in a pouch. (Here, the battery cells are shown flat, though they can also be rolled up like a not-so-delectable jellyroll.)
Several features of batteries make recycling hard. They come in vastly different shapes and sizes, they can explode or catch fire, and their chemistries (especially in the cathode) vary and so require different kinds of chemical processing to extract useful elements. Yet another hurdle is that the materials are tightly stuck together: powdered graphite is glued to copper foil on the battery cell's anode side, and powdered lithium metal oxides are glommed onto aluminum foil on the cathode side. Trying to separate all of these components often leads to contamination — for example, bits of aluminum can get mixed in with the lithium metal oxides. Even successfully detaching the materials from each other yields fine particles and thin strips of metal that are difficult for recyclers to handle.
What's most valuable to recover from a lithium-ion battery? In particular, cobalt, but also nickel, lithium, copper, manganese, aluminum and iron, which are found in different formulations of the cathode.
Continue reading at the source (Canary Media)