PLAN TO SURVIVE;  IT MAY BE YOUR ONLY CHOICE
Two approaches to preparation and survival follow . This article parallels the kind of work now being carried out by CACOR members to develop a practical survival guide for Canadians in the face of a changing climate.  Watch this site for progress on this project,
Climate change: a survivors' guide
As warnings of global climate change grow ever more dire, John Vidal offers 10 tips on how to prepare for an apocalyptic future   An article from the Manchester Guardian by
John Vidal 
point sthe way to survival.
This British example from 2013 covers some practical hints.    It is followed by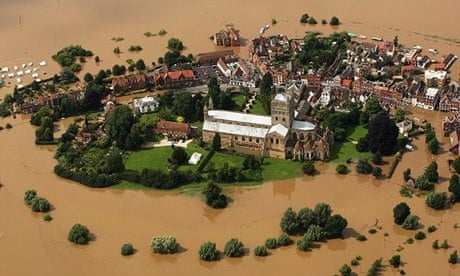 1 Stay cool, dry
Britain is expected to get more extremes of heat and rainfall, so prepare for more severe floods, longer droughts and more powerful storms. No one knows quite what the effect over time will be of a slowing Gulf stream, or the melting of arctic sea ice, but climate scientists confidently expect temperatures to rise up to 4C by 2100. That could mean big shifts in rainfall patterns and a more unpredictable climate. So clear your drains, fix your roof and move to Wales – or at least to somewhere with good water supply. The worst that could happen? Your grandchildren will inherit inexorably rising temperatures that render much of the Earth uninhabitable. Their problem? Yes, but yours, too.
2 Move
Sea levels are rising gradually and by the end of the century could be nearly 2ft higher than they are today. So don't pass on that beach hut to your children, and expect to lose acres if you live near the coast in East Anglia and other low lying areas. You won't have to head for the hills for many years, but prepare to view the seaside from behind higher walls and from the dykes that will be needed to protect many coastal towns. By 2100 the map of Britain will be smaller and many cities are likely to be besieged by climate "refugees" arriving from low-lying areas such as Norfolk.
3 Adapt
Climate change is going to be very, very expensive, and the poor, the old and the vulnerable will be the most affected because they are least likely to have the money to move house or adapt. Economists such as Lord Stern and Jim Yong Kim, the new president of the World Bank, expect a 4C temperature rise to result in global economic meltdown – unless countries rapidly shift their economies towards less energy-intensive industries. Stern predicts that warming will knock at least 5% off GDP per year and Kim expects food shortages and conflicts over natural resources and water. Abnormal events such as Hurricane Sandy, which cost $65bn (£40bn) and the 2011-12 US drought, which cost $35bn (£21bn) may be just foretasters of the price to be paid. On the other hand, there's serious money to be made adapting cities and industries to climate change and reducing emissions.
4 Grow your own
More heat and a longer growing season should make it easier to grow some crops in northern countries such as Britain, Russia and Canada, and more carbon dioxide in the atmosphere theoretically should increase plant growth. But don't expect climate change to feed the world. You are likely to have to change diets because bigger droughts, flash floods, heatwaves and storms may devastate harvests and reduce the amount of foods available. Countries such as Britain, which depend heavily on food grown abroad, may be able to grow fruit that farmers only ever dreamed about, but there will be less land on which to grow and imported grub will be much more expensive because other climate-affected countries will keep their smaller harvests for themselves. If coral reefs vanish there will be fewer fish in the sea and if the oceans continue to soak up CO2 they will become more acidic. That would be very, very bad, but the scientists say this won't impact heavily in the next few lifetimes.
5 Take a shower
Don't take fresh water for granted. Longer droughts are likely to dry up large parts of southern and eastern England, and underground water suplies will be more stressed. We've always muddled through heatwaves and droughts, but as temperatures climb, a run of dry winters becomes more and more likely. So prepare for droughts not just once a decade but perhaps every other year. Get used to yellow lawns, taking showers with chums and watering your garden with waste water.
6 Be charitable
Humanitarian groups such as Oxfam expect many more food shortages and natural disasters in countries where even a small shift in the rainfall pattern or increase in temperature is enough to reduce harvests and leave millions more hungry. Worst-case scenarios? A shift in the Asian monsoons is expected to reduce the amount of water in rivers coming off the Himalayas, and because this is needed for nearly a third of the world's population, there could be disastrous food shortages. Further drying out of the Sahel and African rangelands will force millions of people to move.
7 Get a spanner
Things are going to go wrong much more often, so expect mini-disasters. Cars, trains, roads, and buildings, flood barriers, drains, underground systems, reservoirs, power stations, ports and all are designed for existing temperatures, sea levels and rainfall, and may be overwhelmed in future. Railway lines will buckle more easily, nuclear power stations will get flooded more easily, building cooling systems will be inadequate, flat roofs will leak more and concrete structures will be like ovens. Designers will have to rethink the way things are made.
8 Watch your health
Warmer winters mean fewer deaths among the old, but far more heart and respiratory diseases in the hot summer nights. Even worse, the warmer, wetter conditions will encourage the fungal, algal, tick-and-mosquito-borne diseases we usually only see in the tropics: Dengue fever was detected in France and Croatia in 2010; West Nile virus and Rift valley fever have become common in the US; and a 4C increase in Britain probably means malaria-carrying mosquitoes, and ticks infected with Lyme disease. Equally possibly, the already crumbling system of urban drains is likely to be overwhelmed by extreme weather events, which will discharge pathogens into heavily used rivers and seas, possibly heralding the return of diseases such as typhus.
9 Don't get angry
Life in many of the world's cities is already nearly unbearable in some months. The scorching urban nights expected with climate change will be a recipe for social disorder, ill–health and mass grumpiness. If there are water and power cuts, as expected, then get ready for migrations out of urban areas to cooler countryside. Best advice? Stay out of town.
10 Prepare for the big burn
A 4C temperature rise doesn't sound much, but it is quite enough to kill off trees, wildlife, garden plants, insects, and river life. On the positive side, we may get faster-growing rainforests and enhanced plant growth, but many animals will not be able to adapt to higher temperatures. Don't expect to grow the same plants in your garden, or see the same trees in the parks. Change will be gradual, but profound.
Some Personal Survival Skills For Joes And Janes
These personal survival skills can evolve to fit your current lifestyle. You can practice a possible worst case scenario on a daily basis and formulate a way out of it. The good thing about this is when it does happen, you will react naturally and, hopefully, won't panic. Eventually, you might be rewarded with your life.   From Survival Life
1. First Aid
These are personal survival skills that an everyday Joe and Jane should really have. This could really help you or your loved one to survive and function despite having injuries or being ill. Some of the most common injuries are snake bites, sprained ankles, burns, hemorrhage, hypothermia, poisoning, heart attack and infected wounds. Choking or breaking an arm or a leg is life threatening in itself. Once learned these skill can indeed be a lifesaver.
Basic first aid includes:
How to perform CPR
What to do when someone is choking
How to save someone who's drowning
How to treat bleeding
How to treat burns
How to carry someone heavier than you
How to deliver a baby from a car, or anywhere
2. Making an Improvised Shelter
At some point in your life you will come to face the elements of nature. Should you be stranded in the middle of the road due to a blizzard or a snowstorm is gut wrenching. Maybe getting caught in a flood or basically stuck in a place with no hotels or inns nearby. You can stay in your car but keeping yourself warm and dry is a must. Having a tent will do. Assuming you don't have one then a poncho or a tarp is the next best thing. If you still don't have that then, using broken branches and leaves will do. Learn how to build one here. 
Check out my solution to finding shelter that is made out of thermal material, reflects 90% of body heat and is waterproof & windproof. Shop the Stone Mountain Shelter here.
3. Building a Fire
Keeping yourself warm and cooking food are among the few things that fire gives to meet your survival needs. Starting a fire would surely come as a challenge without a lighter or a box of matches making it one of the necessary survival skills. But do you know that there are countless ways to start a fire? Once you learn to build a fire, it will become a lifesaving technique. However, don't overlook the fact that you have to maintain that fire. A bottle of alcohol or tinder will do the trick.
The basics of starting a fire:
Identify your ignition source – (wet matches, magnifying glass, lighters, friction bows, magnesium and flint)
Gather tinder – (dead plants or grass, pieces of paper, , birch bark, dry leaves)
Gather kindling – dry twigs and wood pieces, cardboard, large pieces of wood cut into small pieces, and fuzz sticks (sticks with shavings cut into them, but still attached).
Gather log or bulky fuel sources
Create a small area for your fire
Pile the kindling loosely in your fire area.
Place tinder around your kindling.
Ignite with your ignition source and slowly blow into the burning tinder or kindling
Gradually add the logs
4. Finding Water
You must learn this survival skill to get drinking water from rainwater or other bodies of water. A portable water filter will do the trick. But there are also other crude ways to convert undrinkable water into something that is safe to drink. You can prevent yourself from getting dehydrated which can result to a number of other side effects making you not to function normally. Oftentimes, it can be fatal.
Some tips to finding water in the wild:
Keep an eye out for lush vegetation or growth. Trees and plants usually thrive near or above a natural spring.
If you find a small water source, follow its stream to its big source.
My favorite tool to effectively and efficiently filter water, the Aquastiq is perfect for any survivalist. Shop for it here. 
5. Finding Food
If you run out of food, learning to hunt for game or catch fish can be the next best thing, if you have the tools that is. Plus, you have to put in a lot of effort to do these things. Do you know that foraging is the easiest source of food for survival? Learning where to forage for plants that are safe for eating and how to prepare them can be learned online. If you could watch a movie for a few hours, why not learn these survival skills instead? It could just save your life. Learn more about food preparation in the wild here.
6. Learn to Navigate
Getting lost in the wilderness and not knowing where to go has proven to be fatal for a number of poor souls. Having a GPS is indeed a must, but what if you lose it or find yourself not having one in a survival situation? Some companies build watches equipped with a compass. But it is best to learn the basics. A needle and a small puddle of water, a basic compass and a map, or looking at the sun or the stars are a few tricks that people have been using for ages. Knowing where your bearings are, like which way is North, South, East and West, can truly be helpful even when in an urban environment where asking for directions is very common. You can read more about navigation basics here.
7. Self Defense
Learning how to shoot a gun can be the most basic way of defending yourself. Should you run out of ammo there's not much you can do. Nowadays, a taser and pepper spray is a great must-have everyday item. If caught without these things, a stick, a rock or even a handful of dirt can be a good way to defend yourself with. Learning basic martial arts skill can certainly be a game changer. Know about the essentials of self-defense right here.
8. Tying Basic Rope Knots
Learning to tie knots like the figure eight knot and the mid-rope clove hitch knot are just some of the most basic knot-tying skills that can help you get through a survival situation. Whether it is rappelling or climbing a cliff, keeping things in place like a splint or just keeping a tent in place, nothing so basic can seem so important when it's your life that's on the line. You can learn more about tying knots right here.
9. Mental Preparedness
Oftentimes, it the state of the mind that determines if one can truly get through a survival situation. No matter how prepared a person can be, if they're unable to stay composed when it's needed most, they'll likely end up dead. Of course being physically able still matters. Being mentally prepared helps you function accordingly, even under stress. There are mental tools and certain strategies that can aid people to cope better for these things
With coming climate change, these skills may be more important and will help people deal with the likely effects.  Note that CACOR members are preparing a Guide to climate change survival which will be available in the next couple of months.