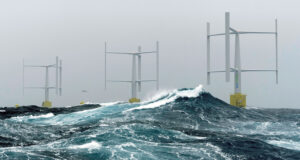 Swedish wind turbine maker SeaTwirl got the go-ahead to test its 1 megawatt (MW) S2X vertical-axis floating offshore prototype in Norway.
Vertical-axis floating wind turbine pilot
In March 2022, Norway's Ministry of Energy gave approval to SeaTwirl and Norwegian offshore wind test center Marine Energy Test Centre to pilot the vertical-axis floating wind prototype for five years at a former fish farm in Boknafjorden, northeast of Lauplandsholmenoff, 700 meters (2,297 feet) from the coast.
But four groups – the Norwegian Environmental Protection Association, the Norwegian Fishermen's Association, and two campaign groups – appealed against SeaTwirl's permit, and so the project was put on ice.
In January, the Norwegian Water Resources and Energy Directorate rejected the appeal, so SeaTwirl's S2X pilot can now proceed, and no further appeals will be considered.
CEO Peter Laurits said:
Our main focus is the commercialization of large turbines, SX, in floating wind farms. The outcome provides freedom to choose and plan the installation of S2x in the way that best supports that goal.