Let's Help China Run the World!
How? It's simple. Buy their stuff & don't push back when they abuse us.
Part I – No Matter That…
No matter that Canadian canola farmers are banned from selling to China in a blatant game of political gamesmanship with Donald Trump.
No matter that Canadian missionaries, Kevin  & Julia Garratt, who ran a coffee shop, were locked up for years on imaginary charges of " harming China's state security activities".
No matter how much they don't play by International Trade rules.
No matter how much they manipulate their currency value.
No matter how much intellectual property theft they do.
No matter how many countries they invade and territory they claim.
No matter that they are by far the largest emitter of CO2 in the world.
No matter that they now produce more concrete than the rest of the world put all together.
No matter they have claimed the South China Sea in spite of an International Court ruling and vigorous protests by the Philippines.
No matter how toxic the food is that they export. (19)
No matter that without their support the North Korean regime would collapse.
No matter that a top source of cyber espionage is China.
No matter that Chinese hackers are now infiltrating corporate networks while software code is being written. This lets the hackers insert malware into the code from the start that will stay as it's used by consumers and updated.(1)
No matter how many Canadians they put in jail and threaten with the death sentence.
No matter how many Canadian companies they buy, and then only employee workers from China to operate.
No matter how terrible the quality of the goods they sell.
No matter that the not-so-subtle genocide in Tibet continues unabated.
No matter that the Uighurs of 'western' China are being locked up by the millions and have Chinese police in their homes and cell phones monitor their conversations and locations at all times.
No matter that the "Social Credit Score" is being used to control all behaviour of its citizens by monitoring every financial transaction and every movement 24 hours a day using cell phones like those made by Huawei.
No matter how many toxins are in their food and children's toys.
And why would we tolerate such abuse?
Because their stuff is cheap!
And what will the result be? According to Martin Jacques, in his 2009 book, When China rules the World:
China's meteoric rise will extend far beyond the economic realm, unseating the west and creating an entirely new global order. The role of economic and cultural relevance will, in our lifetimes, begin to pass from New York and London to cities such as Beijing and Shanghai. The West is deeply mistaken in believing that China is becoming more like the west. And increasingly powerful China will seek to shape the world in its own image. China is increasingly likely to conceive of its relationship with East Asia (now the entire world) in terms of Tributary state, rather than nation state, system. The Tributary state system had lasted for thousands of years and finally came to an end at the conclusion of the 19th century. (3)
Part I – Here are a few headlines to reinforce the point
It is time for Canadians to stand up to China and boycott Huawei products (11)
Beijing sees cyber espionage as necessary for China's national progress
It's widely believed that Canadian missionaries Kevin & Julia Garratt were apprehended in August, 2014, as reprisal against Canada for the arrest, weeks earlier, of Chinese citizen Su Bin in British Columbia. Mr. Su was sentenced in the United States to nearly four years in prison for his role in organizing the hacking of technical data on military aircraft. (7)
"We have been in a state of self-delusion about our relationship with China for a long, long time. China has been using us and has been setting up agents of influence and otherwise operating in Canada against our interests for 60 or 70 years." (4)
13 Canadians detained in China since December, when Huawei executive was arrested in Canada (12)
Burton China Canada tensions are no passing storm (9)
BC mine to hire only Chinese temporary workers for years (10)
Michael Kovrig: Canadian detained in China kept in cell with lights on at all times
China's canola embargo once again turns Canadian farmers into political footballs
Company formerly known as Nexen Energy (Chinese now) fined $450,000 for 2016 blast that killed two oil sands workers
China's "social credit" system uses technology to punish citizens (13)
Chinese firms to urge its employees to boycott Apple in retaliation —and sanctioning those that don't comply (15)
China's pitiless war on Muslim Uighurs poses a dilemma for the west Europe seeks a 'golden era' of trade and investment with a country that is holding a million people in 're-education' camps (14)
China blocks effort at UN to ban Jaish chief Masood Azhar for 4th time – upsetting India and spurring Boycott (16)
Are China's Chickens Contaminating America's Plates? (20)
Now, to be fair, our friends south of the border are far from Lily White – read: "The Concise Untold History of the United States" by Oliver Stone if you want that point drilled home . However for Canadians the real question is, in an imperfect world, do we want to be an American or Chinese colony? Being a practical person I realize that in a global age of global products and global trade making nations reliant on each other so that wars decrease and global cooperation on global issues such as climate change can increase is a good thing. The bottom Line: knowledge spurs me into action, otherwise, what is the point of knowing anything?

Part III – Boycott or Bust!
So what can you or I do about all this? Not terribly much, but the little we can do we must, or we risk making a contract with the Devil like Faust did, with the appropriate consequences to follow. However, let's at least start with the idea of a boycott. This is an effort in which I shall probably fail. But that is life. Fortunately some wise man from the past told me that it is the effort that counts. I hope it's true, even though I have my doubts. Now the point is not to "punish" China or accusing them of being "the evil empire" or other such nonsense but simply to integrate them an international world order where all of us play by the same rules. That's all.
.
For me this issue started way back when I became aware of the invasion of Tibet and then read the book "Seven Years in Tibet" and then watched the excellent movie of the same title. Once I decided to do a boycott the more difficult step was: how?  The fact is that pretty much everything we buy – from lawnmowers to garlic is made in China. Because this article makes no pretences of being academic and exhaustive in its research I will focus on what I have done, with a few references of where you can look to do more, if you want.
Step 1: My wife says: "What's with the supermarkets only selling Chinese garlic in the winter? I read that much of their soil is laced with heavy metals. I won't buy it. Find a solution Gord.!" So I did. I became a garlic farmer 12 years ago and still have a nice patch in the back garden.
Step 2: My wife says: "What's with all this frozen fish "Made in China"? I know they don't follow the international efforts to reduce bycatch so I won't buy it. Find a solution Gord, because we are trying to reduce our red meat consumption in our efforts to reduce our Carbon footprint." So I did. We now go to a local fish market that sells fresh fish not processed in China.
Step 3: We never shop at Walmart. One reason (of many) is that the flood of cheap goods from China started with Walmart and was a cornerstone of their corporate policy, as made clear at Walmart & China: a joint venture. (17)
Step 4: Whenever I have to buy a product I search for a non-Chinese alternative, and given that I can afford it (and I know some cannot, so this is no judgement on them), I purchase the alternative. For example, we have just purchased a all-in-1 washer/dryer from LG, even though the Chinese equivalent by Haier was almost ½ the price. Note; GE appliances was bought by Haier in 2016.
Step 5: Simply buy less stuff! Whether it be clothing, solar lights for your walkway or yet another gizmo for your do-dad from the dollar store: we often buy stuff we may want, but don't really need.
Step 6; Listen this NPR special on how HARD it is to live without purchasing goods from China: "Life Without Goods Made in China a Challenge" or some other person who tried to do the same. Perhaps selling our soul for cheap prices has already cut our own throat by making us over-reliant upon China? (18)
I must admit that my efforts are probably like "spitting into the wind" ie. futile, but for me at least, all of life is like that. At the end of day we are all d—; that is not the point – what matters is enjoying the trip and doing what you believe in – however seemingly futile – is a big part of that. Here are some very logical and thought out objections to a China boycott of any kind that are, logically, valid. Just remember, the whole point of this little piece of writing is not about only being logical, it is about being human in every sense of the word.
"It will be almost impossible to avoid Chinese goods.  For example, nearly every down jacket in the world is produced in a single factory in Jiangsu where several thousand workers make down jackets for e.g.  LL Bean, Hudson's Bay, Abercrombie and Fitch, Colombia, North Face etc.  I saw all being made there as well as many others.  Only Canada Goose may be China-product free (you would have to check the thread, zippers and buttons to be sure.)"
"Globalization has been going on for many decades and it is impossible to tell, at least with electronics, what the "made in xxx" really means.  I suspect this is a challenge in other products as well.  Then there is the issue that 95% of a Canadian company is owned by some numbered company that when traced turns out to be headquartered in Switzerland and tracing the money further determines that the Chinese mafia is behind it all, or ISIS, or Iceland.  So, if a company is stupid enough to put a label on a product that says "made in China" one cannot buy it but pick another one that has a label "made in Canada" how do you really know that you made the right choice?"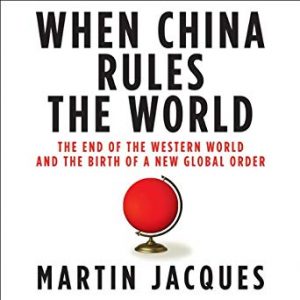 Conclusion
Of course there is a geopolitical angle to this story which is really beyond the scope of this little provocative ditty you are reading. In some ways the tectonic shift of power we are seeing – the decline of the USA and rise of China (see Appendix) – is eerily similar to the lead up to WWI when the British Empire was overextended and Germany was on the rise – for by 1913 Germany came to dominate all the major Continental markets except France. Germany needed to break into the colonial system to continue to expand but was shut out by the major powers of the day – France and the UK. Seen in this light WWI was an economic war between the old powers (UK & France) and the new, rising power – Germany. We certainly do not want to repeat that disaster and so whatever we do must have the end goal of integrating China into a rules based system of international law and trade. The problem is that for too long, to gain short term profits, western governments and companies have turned a blind eye to China's abuse of international laws, human rights, the invasion of Tibet, intellectual property theft, currency manipulation, cyber-espionage… the list goes on. While this has to stop, we certainly, especially as a tiny power like Canada, must do all we can to allow the Chinese to 'save face' but also not allow them to continue being the bully that we have allowed them to become.
So, if you are OK with China replacing the USA as the next super-power, sure, keep buying Chinese products.
And if you approve of China's detention of Canadians make sure our government never pushes back against actions that hurt Canadians.
However, if you aren't too sure that this is such a good thing, perhaps you should read the book "When China Rules the World" or do some more digging on your own or try your little boycott or just admit to yourself that you just don't have the energy to deal with this. And that's OK too, because each of us can only do so much or risk burning out.
In the meantime, I was very happy to find a wooden shovel handle at Canadian Tire yesterday that was actually Made in Canada! Life is made up of small victories and I wish you the best as you find your small victories.
References
https://www.top10homeremedies.com/news-facts/10-toxic-foods-made-in-china-dangerous-to-health.html
China has 19% of the world's population, but consumes …
53% of the world's cement

48% of the world's iron ore

47% of the world's coal

… and the majority of just about every other major commodity.

In 2010, China produced 11 times more steel than the United States.

New World Record: China made and sold 18 million vehicles in 2010.

There are more pigs in China than in the next 43 pork producing nations combined

China currently has the world's fastest train and the world's largest high-speed rail network. China is currently the number one producer in the world of wind and solar power, but don't use it themselves

While they manufacture 80% of the world's solar panels, they install less than 5% and build a new coal fired power station every week.

In one year they turn on more new coal powered electricity than Australia's total output.

China currently controls more than 90% of the total global supply of rare earth elements.

In the past 15 years, China has moved from 14th place to 2nd place in the world in published scientific research articles.

China now possesses the fastest supercomputer on the entire globe.

At the end of March 2011 China accumulated US $3.04 trillion in foreign currency reserves – the largest stockpile on the entire globe.

Chinese people consume 50,000 cigarettes every second.

They are already the largest carbon dioxide emitter and their output will rise 70% as they are building more coal fired power plants right now than exist in all of North America.