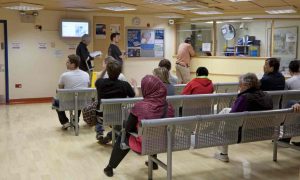 Tech company's health subsidiary planning digital ledger based on blockchain to let hospitals, the NHS and eventually patients track personal data.
Google's AI-powered health tech subsidiary, DeepMind Health, is planning to use a new technology loosely based on bitcoin to let hospitals, the NHS and eventually even patients track what happens to personal data in real-time.
Dubbed "Verifiable Data Audit", the plan is to create a special digital ledger that automatically records every interaction with patient data in a cryptographically verifiable manner. This means any changes to, or access of, the data would be visible.
DeepMind has been working in partnership with London's Royal Free Hospital to develop kidney monitoring software called Streams and has faced criticism from patient groups for what they claim are overly broad data sharing agreements. Critics fear that the data sharing has the potential to give DeepMind, and thus Google, too much power over the NHS.
In a blogpost, DeepMind co-founder, Mustafa Suleyman, and head of security and transparency, Ben Laurie, use an example relating to the Royal Free Hospital partnership to explain how the system will work. "[An] entry will record the fact that a particular piece of data has been used, and also the reason why, for example, that blood test data was checked against the NHS national algorithm to detect possible acute kidney injury," they write.
Suleyman says that development on the data audit proposal began long before the launch of Streams, when Laurie, the co-creator of the widely-used Apache server software, was hired by DeepMind. "This project has been brewing since before we started DeepMind Health," he told the Guardian, "but it does add another layer of transparency.
"Our mission is absolutely central, and a core part of that is figuring out how we can do a better job of building trust. Transparency and better control of data is what will build trust in the long term." Suleyman pointed to a number of efforts DeepMind has already undertaken in an attempt to build that trust, from its founding membership of the industry group Partnership on AI to its creation of a board of independent reviewers for DeepMind Health, but argued the technical methods being proposed by the firm provide the "other half" of the equation.
Read the rest of the article here