Dr. John Hollins, past Chair CACOR Board of Directors addresses pathways:
What target could Canada actually hit in 2030?
When could it actually get to 30% below 2005?
The Pathways project of the Canadian Association for the Club of Rome (CACOR) examined a reference case – business as planned – and eight further actions to reduce Canadian emissions of greenhouse gases during the period to 2060.
This paper offers an opinion on targets; it ends with a summary of three messages for general audiences and three questions for candidates.
What target?
The graphic below, using data from the CACOR study, shows that if all eight actions were implemented in full, starting yesterday, it would in theory be possible to hit the 2030 target of emissions in 2005 minus 30%.
But in a country:
o   That failed by a wide margin to meet the commitment that it made in Kyoto in 1997,
o   Whose emissions have essentially been stalled for a decade at 30% above the target with only eleven years to go, and
o   With a federal-provincial political war in progress,
The likelihood that Canada will meet the commitment that it made in Paris in 2015 is vanishingly small.
Approach
My maternal grandfather was a cabinetmaker.  He insisted that the correct tools be used for whatever piece he was making.  I apply that approach to this issue.
One of the fundamental lessons learned from the CACOR study is that targets should be set only with full knowledge of what in practice can be achieved, or, with a given target, by what year it could in practice be hit. There is no point setting targets that cannot be hit; that obstructs attention to what could in fact realistically be done.
Political courage is required as well, but on its own it is not enough.  The United States did not get to the moon by political courage alone.  JFK had political courage but he also followed competent scientific and technological advice and knew that the prospects of success were good. Winston Churchill had political courage, but he relied on people like Canadian Max Aitken (Minister of Aircraft Production) to secure the tools that were needed: Supermarine Spitfires, Hawker Hurricanes, Bristol Blenheims, Lancaster bombers . . .
Canada will not actually hit a target by political courage and wishful thinking alone, the political approach to date.  It needs to understand in practice how it will do whatever it proposes to do.  So let's find a waypoint for 2030 along the pathways explored by CACOR using first approximation and common sense.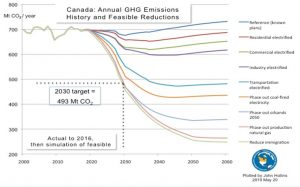 As one goes down the graph, the reductions are cumulative, adding the new action to those in the line above. The order of lines on the graph is arbitrary; it does not imply priority for implementation.  For simplicity, I'll address the actions in order from the top down.
Many of the actions involve fuel switching, from fossil fuels to green electricity.  That requires, of course, the availability of enough green electricity to meet the demands – job one. My following priorities are then actions 5 and 4 in that order.
  The reference scenario is business as planned:
o   It incorporates all the plans known to the analyst;
Current plans clearly do not lead to substantial reductions.
2.   Electrification of residential demands for energy:
      o  Very little progress to date in switching from natural gas;
Would require programs to foster switching along with ever increasing energy efficiency.
3.  Electrification of commercial real estate:
o   Very little progress to date in switching from natural gas;
Could be achieved with financial instruments – business is routinely governed by the bottom line.
4.  Electrification of industrial processes:
o   Very little progress to date in switching from natural gas;
Could be achieved with financial instruments – in a technologically competent sector governed by the bottom line.
5.  Electrification of transportation by road – passenger and freight transportation are taken together in this study; they are about 50:50.
o   Very modest progress to date in switching passenger cars and trucks to electricity; none at all for public transport or freight except tentative experiments.
For passenger vehicles, requires as a prerequisite a substantial trans-Canada network of charging stations: could be achieved by early governmental investment;
Would require subsidies and other incentives to foster the early adopters and build the base for a new market; the federal government and some provincial governments have started on this path; a coherent pan Canadian program is required.
Norway has shown the way: more than half of the new cars sold in Norway in 2018 were electric vehicles, secured by a portfolio of incentives, not taxes.
o   This is a big scenario in a sector in which the turnover of the stock of cars and trucks is between 10 and 20 years;
it would take a couple of decades to achieve the full potential.
Let's say that an aggressive program could optimistically secure a switch in 50% of the new cars and trucks purchased by 2030, recognizing that vehicles traded in would be on the road for longer.
o   The earliest that a significant switch for freight from diesel fuel to either electricity or hydrogen could begin is well into the future;
What is required now is a substantial program of research, development, and early deployment to determine what options would be effective;
o   This study has not yet addressed transportation by air.  In the United States, the price elasticity for business travel is zero and for vacations about minus one.  Price does matter for vacation travel by air, but not for business travel.
One approach would be to ration transport by air, in the same way that petrol was rationed in post-war Britain; not yet politically feasible.
5.  Phase out completely the use of coal for the generation of electricity and then natural gas.
o   This tackles directly the number one issue – substantial and rapid reduction in the use of fossil fuels.
It is both technically and politically feasible: New Brunswick and Nova Scotia have already begun;
It is an opportunity for the federal government to work cooperatively with Alberta, New Brunswick, Nova Scotia and Saskatchewan to secure rapid progress during 10-15 years.
6.  Phase out the production of bitumen from the oil sands.
o   The is the second biggest reduction in the study;
Without starting now not even the 2030 target can be hit;
It is not currently politically feasible; but the construction of new renewables would create more jobs than would be lost, and
The economic rent from the oilsands, some of the most expensive oil to produce in a world awash in oil, is more likely to decline than increase.
7.  Phase out the production of natural gas:
It is not currently politically feasible; but the construction of new renewables would create more jobs.
8.  Reduce immigration by 50%:
o   Makes a relatively small difference compared with the other scenarios;
Concentrate on the actions that make big differences.
Opinion
There is no way in practice that Canada can meet the target that it accepted in Paris in 2015, namely, 2005 emissions less 30% by 2030.  The best that it could do is likely to get about one-third of the way to that target in 2030, with the possibility of hitting it in 2040 on the way to a much bigger reduction by 2060.
Canada will fail to meet its moral obligation to the citizens of the world, notably those in developing countries.  It currently is not seriously addressing its moral obligation to its own younger and future generations: to prepare for the inevitable consequences of global heating in a world in which several of the major players are not even trying.
Canada has the cart before the horse.  The agenda should be reset to make adaptation number one and reduction of emissions number two.  If adaptation were accepted as the top priority, it would be a strong driver for reduction of emissions (often referred to as mitigation) and they would become of equal importance.
Annex: Three messages
I propose just three main messages for Martha and Fred — general audiences:
Global heating [2] is for real:
o   Recent polling (Abacus) suggests that this should be an easy sell, but worth reinforcing with electors;
Gravity of this issue demands non-partisan collaboration:
o   A proposition that will be new for many, but easy to understand and accept;
Priorities for action: start with two of the big ones:
o   Green the electrical grid;
o   Begin to tackle the practical issues in substituting green energy for the use of fossil fuels for transportation.
Questions – for candidates
Madam/Mister Chair,
I have a double-barreled question for candidate X (start with the candidate most likely to give a solid answer (determined in conversations before the session begins); the chair will probably then turn to the others to answer.  Ask question 1 and then either question 2 or 3, depending on the exchanges so far in a meeting.
A practical point: stay at the microphone after you have asked an initial question — do not return to your seat and loose the opportunity for a follow-up question or remark.
Do you agree that global heating presents a significant threat to life on Earth?
If yes, do you agree that this is an issue of such importance for my grandchildren and yours that it requires collaboration across the political spectrum, rather than confrontation?
Ø  How will you work with other parties to find and implement solutions?
o   If no, spend no more time with this candidate;
Ø  If this happens in a meeting, say that you will be voting for a candidate who understands the fundamentals of this issue.
Do you agree that the priority for action by Canada should be to tackle in short order some of the really big emitters?
o   Generation of electricity from coal and natural gas;
o   Investment in infrastructure to substitute green energy for fossil fuels in transportation.
o    Follow-up question:
Ø  Will you then aggressively address the practical issues of substituting green energy for the use of fossil fuels for transportation and the heating and cooling of buildings?
2019 September 6
[1] John Hollins is Past Chair of CACOR. He is a biophysicist who became a generalist.
[2] I use the term global heating (could be warming) for climate change, which is only one of the three symptoms of the emission of carbon dioxide. George W. Bush took the advice of his communications guru, Frank Luntz, and never ever used the term global warming: electors understand what happens to a frog warmed slowly in a bowl of water.  Bush 43 referred only to climate change. Electors know that climate is weather on a longer time scale; weather is inherently variable so changing climate is not a surprise.