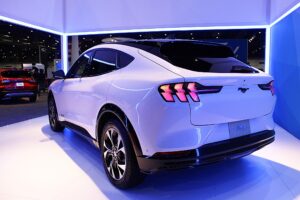 Ford has announced a major investment in electric vehicle (EV) production in the US, promising to build its biggest ever factory in Tennessee, and two battery parks in Kentucky.
Under the $11.4bn (£8.3bn) plan, the carmaker said it will build zero-emission cars and pickups "at scale" for American customers.
It will also create 11,000 jobs.
Like rivals GM and Stellantis, Ford hopes around half of the cars it sells by 2030 will be zero-emission.
Yet the additional government investment required to make it happen is still in question.
"This is our moment – our biggest investment ever – to help build a better future for America," said Jim Farley, Ford's president and chief executive in a statement.
"We are moving now to deliver breakthrough electric vehicles for the many rather than the few."
Ford said its Tennessee factory – called Blue Oval City – will cover a 6-square-mile area and build next-generation electric pickup trucks and batteries from 2025.
Its battery parks in Kentucky will power a new line-up of Ford and Lincoln EVs.
Continue reading at the source (BBC.)