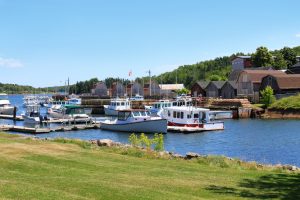 Prince Edward Island today announced plans for a $18.53 (CA$24.5) million microgrid project to ease Covid-19 related financial hardships by reducing energy costs for those that live on the island.
Called the Slemon Park Microgrid Project, the 10-MW solar-storage facility will boost renewable energy use on Prince Edward Island by 3.5% and move the island closer to energy self-sufficiency.
Part of the money is coming from Canada's Green Infrastructure Stream (GIS) and the Smart Grid Program, which will contribute $9.3 million. Both programs are part of the government's "Investing in Canada" infrastructure plan.
The Government of Prince Edward Island will provide the remaining $9.6 million.
In addition to easing electricity costs, the project is viewed as a way to help Prince Edward Island achieve environmental goals.
"The Slemon Park microgrid project addresses three vital areas of the Provincial Energy Strategy — efficiency, conservation, and renewables. This project will reduce GHG emissions and our reliance on imported power," said Steven Myers, Prince Edward Island minister of transportation, infrastructure and energy.
The project is one of several government-funded green energy and resilience initiatives underway in Canada.
Continue reading at the source.