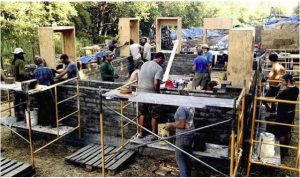 Should construction industry giants be worried? After open-source software and the manufacture of machines and objects, the global fabber [3-D printer] community is now turning to actual open-source house construction. Providing plans and techniques that are accessible to everyone, collaborative construction and assemblage of components (from the United States to France, by way of Great Britain), a true community of "free housing" is emerging and self-organizing to revolutionize construction and its financing and to provide everyone access to more suitable housing.
"My wife and I lived for three months in a tiny house," Marcin Jakubowski said. "We didn't find that sustainable over the long term! It's too small; especially in winter. We needed something larger." Consequently, Jakubowski and Catarina Mota decided to build themselves a larger house, with several rooms: a real house they built themselves, without paying a developer to do it, thanks to the open-source plans and tutorials distributed without copyright or royalty fees (open-source plans are usable, reproducible and modifiable by any who wish to do so). Originally part of the information technology world, now open source is making its appearance in the construction world.
This is not Jakubowski's first attempt at open-source DIY construction. Located in Missouri, he had already started an artisanal construction project to build dozens of industrial machines: a tractor, bulldozer, oven, windmill, hydraulic motor and other very low-cost machines reproducible at will, thanks to the free distribution of documentation, plans and manufacturing techniques. After living in a multi-square-yard-size house, he decided to apply the same method to housing construction. And he hopes that the model will expand to form a global community of DYI house builders. "People don't see right away what a tractor is good for. But people see the utility of a house right away," Marcin notes.