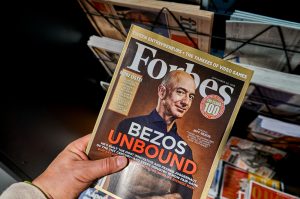 The richest man in the world today, Amazon Founder and Chief Executive Officer (CEO) Jeff Bezos announced that he will donate a massive 10 billion US dollars for his Bezos Earth Fund to support the continuing war against global warming. He made the announcement through an Instagram post on his official personal account last week.
On his post, the billionaire mentioned that his 10 billion USD commitment will be called the Bezos Earth Fund, and will start with the 791 million USD in donations, to the 16 organizations that according to him, works on "innovative, ambitious, and needle-moving solutions."
The 16 grantees of the first batch include: The Climate and Clean Energy Equity Fund, ClimateWorks Foundation, Dream Corps Green for All, Eden Reforestation Projects, Energy Foundation, Environmental Defense Fund, The Hive Fund for Climate and Gender Justice, Natural Resources Defense Council, The Nature Conservancy, NDN Collective, Rocky Mountain Institute, Salk Institute for Biological Studies, The Solutions Project, Union of Concerned Scientists, World Resources Institute, and the World Wildlife Fund.
One of the first batch's grantees, the Environmental Defense Fund, is a US based nonprofit environmental advocacy group that is known for providing solutions on different issues about the environment such as global warming, ecosystem restoration, problems on the oceans, and the human health. They established the purposive application of economics, law, and sound science to come up with solutions that would fit and work upon the issues they are dealing with
The group expressed their gratitude to the Amazon's CEO also through Instagram, with their post thanking the Bezos and labeling the Bezos Earth Fund as a proof of a "window of opportunity" for groups and initiatives to fight climate change and bring action to save the environment.
Continue reading at the source.