Key indicators of how humans are changing the Earth:   
Sea level, species, carbon dioxide, sea ice, population, daily temperature extremes, annual climate change performance by country, air pollution, temperature records, climate change indicators, top ten emitters.
********************
Click on each link to see the latest data.
********************
Sea level
"Sea level rise is caused primarily by two factors related to global warming: the added water from melting ice sheets and glaciers and the expansion of seawater as it warms. The first graph tracks the change in sea level since 1993 as observed by satellites."
********************
Species at risk of extinction
"By the end of the century, half of all species could be facing extinction. The rate of species extinction is up to 10,000 times higher than the natural, historical rate."
********************
Atmospheric carbon dioxide
"This table presents the most up-to-date, daily average reading for atmospheric CO2 on the planet."
Values for each year have been increasing at an ever-faster pace since the record was started in 1958.
********************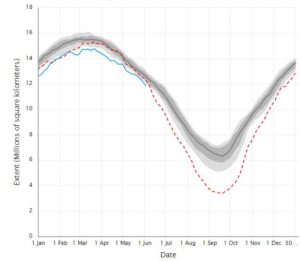 Arctic sea ice
"Scientific analysis on Arctic sea ice conditions. We provide an update during the first week of each month, or more frequently as conditions warrant."
The summer of 2021 has been well below the long-term average, though not the lowest ice cover on record, which was in 2012.
********************

Human population
"The chart illustrates how world population has changed throughout history. "
As of 04-May-2021: 7.9 billion of us.
********************
Daily temperature extremes
"Maximum and minimum temperatures, plus maximum precipitation, in the last 24 hours. Data can be sought globally, by region, and by country.  The most intense heat waves and storms can be located."
On 28/29 June 2021, despite heat waves in North America, Siberia, and the Punjab provinces of India and Pakistan, the area around the Gulf of Arabia has the hottest temperatures, well above 50 °C.
********************
Annual climate change performance
In 2020, 61 countries were scored.  None had a high enough score to warrant award of 1st, 2nd, or 3rd place.
4th Sweden
5th United Kingdom
6th Denmark
7th Morocco
…
58th Canada
59th Iran
60th Saudi Arabia
61st United States of America
********************
Air pollution indices
The map shows the real-time air quality for more than 10,000 stations around the world based on fine particulate matter (PM10 and PM2.5), nitrous oxide, sulfur dioxide, ozone, and carbon monoxide.  The highest local values appear on top of other nearby stations.
28 August 2021 was a particularly bad day for people in Las Balsas-S. Andrés y Sauces, Canarias (Canary Islands), with an AQI of 835, but the pollution (high PM10) appeared to be very localized.
********************
Temperature records
Coloured bars show average temperature by year (blue is cooler and red is hotter than the 1971-2000 average) globally, by region, and by country.  The records are also available as stripes for each locale.
We have really been heating up our Earth since the end of WWII.
********************
Climate change indicators
A draft of the IPCC's AR6 WG1  Summary for Policymakers had a figure "which aimed to put recent changes in carbon dioxide, global temperature, and cherry-blossom-blooming date into a longer context of changes over the past 2000 years, and to show how other climate metrics have changed in recent decades. Many of these time series are shown in disparate places of the report, and brought together in this graphic which also indicates key milestones and discoveries in climate science."
********************
Top ten emitters
Emissions from Top 10 contribute 68.71% to global emissions!'  [2018 data]
26.1% China (12.4 Gt CO2-equivalent)
12.7% United States of America (6.0 Gt)
7.5% European Union (3.6 Gt)
7.1% India (3.4 Gt)
5.4% Russia (2.5 Gt)
2.5% Japan (1.2 Gt)
2.2% Brazil (1.0 Gt)
2.0% Indonesia (965 Mt)
1.7% Iran (828 Mt)
1.5% Canada (723 Mt)
********************