Key indicators of how humans are changing the Earth:   
sea level, species, carbon dioxide, sea ice, population.
Sea level
"Sea level rise is caused primarily by two factors related to global warming: the added water from melting ice sheets and glaciers and the expansion of seawater as it warms. The first graph tracks the change in sea level since 1993 as observed by satellites."
Species at risk of extinction
"By the end of the century, half of all species could be facing extinction. The rate of species extinction is up to 10,000 times higher than the natural, historical rate."
Atmospheric carbon dioxide
"This table presents the most up-to-date, daily average reading for atmospheric CO2 on the planet."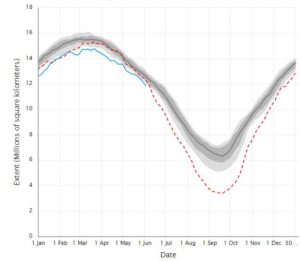 Arctic sea ice
"Scientific analysis on Arctic sea ice conditions. We provide an update during the first week of each month, or more frequently as conditions warrant."
Human population
"The chart illustrates how world population has changed throughout history. "
As of 04-May-2021:    7.9 billion of us.